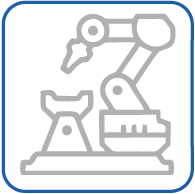 .special machines
---
Standard is not enough for you? Neither do us!
That is why we build individual special machines according to your needs. It does not matter for which application or which industry. With many years of experience in various fields, we are perfectly qualified to develop a machine for your requirements together with you.
We offer you practical complete solutions – no matter whether manual, semi-automatic or fully automatic systems in individual applications or in a complete system network. From planning and design to the commissioning of the plant and long-term service, we perform every single step on the way to the optimal solution for your company.
Short ways within our individual departments result in highest synergy effects, enabling us to achieve short project times from planning to commissioning, from which our customers benefit.
Improve your performance with us!